Geneviéve Dream Staff Bohemia "Jenny"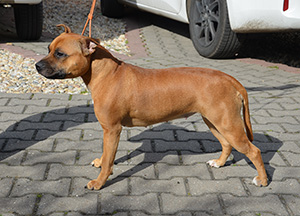 Height: 40 cm
Weight: 16,0 kg
Date of birth: 7. 12. 2013
Colour: Red with dark mask
L - 2 HGA, HC: Clear
DNA profil: YES
Shows:
Club Show SBTC CZ - Puppy class - Very promising - Judge Mrs. Hana Vojáčková (CZ)
Club Show SBTC CZ - Young class- Promising 4 - Judge Mr. Geoff Faulkner (UK)
Special Dog Show SBTC CZ - Young class - Excellent - Judge Mr. Jaroslaw Grunt (PL)
International Dog Show České Budějovice (CZ) - Intermedia Class - Excellent 4 - Judge Mr. Beradze Iuza (CZ)
Jenny is lift terrier type bitch, dark red, scissor bite, full dentition, dark eye with nice arm line and correct top and underline with excellent moving. She has non conflict calm nature, to both dogs and people. She loves going for a walk and fetching balls.
Pedigree
Wiev the pedigree.